The life, death, and resurrection of Jesus Christ are the main principles of Christianity. A Christian book's contents are written with the perspective to convey the teaching with biblical truths, and the scriptures within it inspire us with its enduring principles.
Women have hectic schedules in general. The hours of the day appear to be insufficient to complete all of their activities, work-life, and domestic chores. Reading the Bible might seem overwhelming, especially if you don't have much time. However, reading is said to improve your health by fostering relaxation and is a great way to destress. Christian books for women include Bible verses and teachings, so even if you find it difficult to read the Bible, you can do some light reading that involves the principles discussed in the Bible.
Selecting a Christian book to read is also an important aspect of a Christian woman's belief and path to self-discovery. A good Christian book provides a biblically sound analysis to help you grasp the deeper meaning of the text.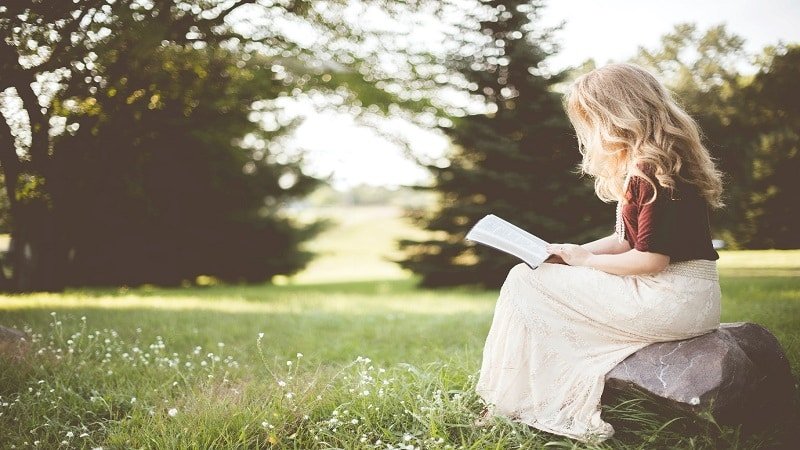 The 5 Best Christian Books for Women
We'll be looking at the following Top 5 Best Christian Books for Women:
1. The Women Of The Bible Speak
Shannon Bream, an anchor at Fox News, is the author of "The Women of the Bible Speak" – a #1 New York Times Bestseller. She shares the considerate backstories of the 16 biblical ladies that portray women as essential actors in biblical texts in her book. It helps readers better grasp the meaning and context of stories from the New Testament.
The book discusses the lives of sixteen biblical women, grouping them into pairs and comparing their experiences. Their tales encourage us to consider the importance of these women's lives and how they relate to one another. We can observe the common efforts in their lives to overcome bitterness, despair, and pride to find their genuine selves through belief, optimism, and compassion.
The book reads like a Religion Class study guide, with Bream telling eye-opening stories about the importance of women in God's plan and a message of encouragement to today's women.
Pros
Easy to read and understand
Helpful narratives can be yielded from each chapter.
There are study questions in each chapter.
Cons
Caution should be exercised with teens because the journalist does not sugarcoat the historical facts.
It takes a long time to read this book.
2. A Lineage of Grace
Francine Sandra Rivers is a Christian fiction author who specializes in encouraging romantic stories. Rivers' interpretation is a fictitious telling of five biblical women mentioned in the Scriptures as being of Jesus Christ's lineage.
The 5 volumes of this book follow the 5 women chosen by God—Bathsheba, Tamar, Ruth, Rahab, and Mary. Every one of them was confronted with astounding hardships and took great personal risks to accomplish their destiny. Each was meant to play a significant role in Jesus Christ's lineage as the new messiah. These women's stories are well-known, yet they are presented in new ways and with new insights.
This book also inspires people to dream and understand that their situations or cultural conventions do not bind them; in God's sight. Everyone is equal and deserving of his love and redemption. It's worth a  read and provides a glimpse into the lives of the women referenced in Christ's lineage.
Pros
Thought-provoking and engaging
A great case study of the lives of biblical figures.
A compilation of five books into one.
Cons
It contains statements and events not found in the Bible as it is a work of fiction.
3. Fervent: A Woman's Battle Plan to Serious, Specific, and Strategic Prayer
Priscilla Shirer is the co-founder of Going Beyond Ministries and a Christian preacher, author, motivational speaker, and actress. She is the author of over a dozen books and Bible studies on a wide range of subjects and biblical figures. This book inspires them to pray for themselves and the loved ones around them.
Prayer is an incredible blessing and luxury. This book is an opportunity for anyone to retaliate with a prayer that can change things. The author has given the enemy a conceptual form as an adversary against whom you should fight back with the force of God's prayer, grace, and love. Every chapter will walk you through creating prayer tactics that target evil.
As someone who has been praying for a long time for a variety of difficult situations, this book infuses new inspiration, purpose, and vitality into daily prayer and personal reflection.
Pros
Breaks prayer down into easy-to-follow strategies.
Has appealing phrases that encourage the reader to keep reading.
Ideal for discussions in small groups.
Cons
The prayer methods at the back of the book are missing from the digital edition.
The writing lacks depth.
4. Having a Mary Heart in a Martha World
"Mary Heart in a Martha World" is Joanna Weaver's best-selling book. Joanna has been invited to speak at national and international conferences where she helps women experience God's great love and grace so that they might become what He made them be.
This book portrays Mary and Martha's lives in such a way that you will feel as if you are there. It explains how to remain still and achieve intimacy with God. Mary, her sister Martha, and their brother Lazarus are the central characters of this book.
The theme of the book emphasizes the need to choose "the best" of what God desires for us in our life. It's well worth your time to read. It's one of those practical readings that will speak to your soul.
Pros
Inspiring and captivating
The author talks on a spiritual and sympathetic level
Each chapter has excellent and useful teachings.
It also includes a study guide.
Cons
Some readers may find it excessively wordy.
5. The Power of a Praying Woman
Stormie Omartian is a Christian and a best-selling author who shares personal stories and teachings highlighting how God transforms the lives of those that trust Him, pursue His purpose, and take His advice no matter what.
The book is an inspiring reminder of the power of prayer that enables you to put your faith in God while you wait for His perfectly timed responses. Personal stories, carefully chosen Scriptures, and passionate prayers are included to help you trust God with your deepest thoughts and desires. It's a terrific stepping stone to establishing a beautiful prayer life because it's both deep and uplifting!
The book is ideal for women looking for the meaning of forgiveness, worship, relationships, and the purpose of life.
Pros
Bible scriptures are used to support the lessons.
Women of all ages will discover hope and meaning in their lives.
Each chapter ends with a prayer that you can pray or use as a model for your own.
Cons
Should only be used as a guide.
Our Final Thoughts
That concludes our brief overview of some of the most popular Christian books for women. Choosing a book that fascinates you as a Christian woman is always a good idea; however, your spiritual needs will always determine the best book for you.
If you are just getting started with Christian books and looking for guidance to pray rightly, then go for "The Power of a Praying Woman."Readers of any age, young or old, can find it as a complete praying guide that is easy to read and gives a purpose to live.
If you need something to assist you in the journey of finding yourself as a Christian woman, then read "The Women of The Bible Speak."It includes an intriguing biography of 16 historical Christian women that a reader will find both enjoyable and enlightening. This is the best Christian book for women and is a fantastic place to start looking for additional Christian literature.
It's important to always return to the Bible, which is the foundation for Christian faith, understanding, and theology. We also recommend reading all of the books at least once if you have the time.