The challenges of the world drive women to explore consistently. It's so natural to be involved with the present time and place instead of considering what the Word of God instructs and directs us to do in a circumstance. Devotionals can assist us with offering functional guidance on comprehension, reflecting on bible verses, and applying them to our own lives. Devotionals have sacred text sections with individual stories and motivational learnings to assist us in becoming closer to God.
To develop simple devotional plans, a book can be used that may not take up much of your time. Dissimilar to the book of biblical studies, which may require a huge amount of time to complete, a devotional is a great method for learning the truth about the Bible in a shorter time. Although it provides significant knowledge to connect you with God, they don't replace any book of biblical study. Yet, it can lead you in the right direction of your spiritual journey.
How to Read a Devotional
To read a devotional book with true spirit, you must set some time in peace each day. Begin with praying to God to reveal truths and speak to your heart through the devotionals you read. Ensure you make notes while reading, or devote a separate notebook just for this purpose. Once you've finished reading, thank God with a prayer and ask him to keep all the readings in your mind as you move ahead, spending the rest of the day.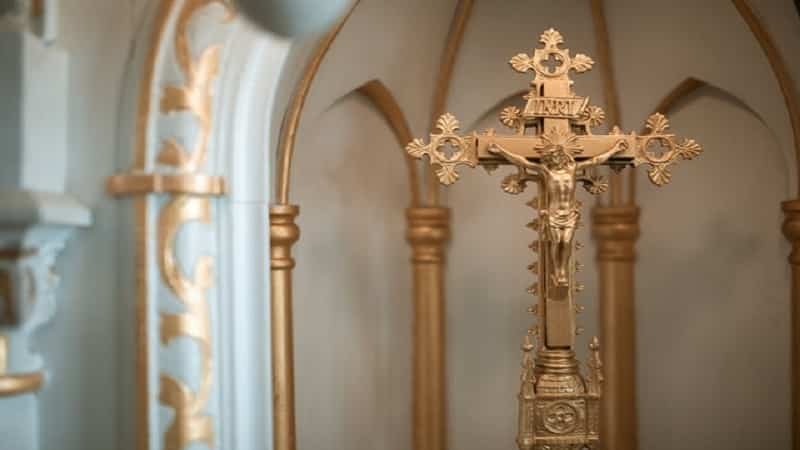 The 5 Best Christian Devotionals for Women
Below we've listed down some of the best devotionals for women that are appropriate for on-the-go women!
Wife After God: Drawing Closer to God & Your Husband
If you've hit a rough spot in your marriage, and the struggle is not letting you live life to the fullest, we've come up with the best devotional to help those wives become stronger in such situations. This book includes prayers for wives that may be firm believers in the Christian faith or are new to it.
You can read all devotionals consecutively or jump to a certain section that is related to the problem you're facing at the moment. The prayers in 'The Wife After God: Drawing Closer to God & Your Husband' let you speak over your husband. You can also gift it to someone getting married or engaged as it makes a great gift.
Then Sings My Soul: 52 Hymns That Inspire
This one is usually a family's favorite as it revolves around the truth and emotion behind hymns of the faith. It is observed that many lives throughout history have changed with the help of hymns of the faith. While these amazing hymns were created due to people's faith, the transformation of faith of many took place by singing, hearing, or reading the songs.
'Then Sings My Soul: 52 Hymns that Inspire' is designed to inspire prayer and provide a personal reflection every week. It includes historical background, an actual hymn with lyrics and music, historical quotes, journaling space, prayer prompts, and reflection questions. The book's main purpose is to keep the classic hymns important and relevant to all generations.
Pressing Pause: 100 Quiet Moments for Moms to Meet with Jesus
This devotional is perfect for all the mothers who get no time for themselves as they are busy taking care of the tiny beings the whole day. While the little ones take the majority of their time, they can read this book to reconnect with God in a short amount of time.
No matter how many chores are pending for the day, or the number of children you have, be confident that these devotionals can induce assurance and encouragement to your day. You get to have 100 moments to reflect in and on Jesus with concise and powerful devotional. If you know a busy mom in your circle, 'Pressing Pause' could be a great gift item for her.
Seeing Beautiful Again
Every person in life comes across a situation that makes everything around dull. This devotional helps individuals find redemption in every pain they didn't cause, the truth that shocked them, and the unwelcome change. Despite all the challenges, the book motivates people to see the brighter side of life and view it as the most beautiful part of your story.
We all face circumstances that make our lives full of celebration and sorrow. However, these devotionals reflect upon how God works behind the scenes to help you deal with the heartbreak and disappointments of your life. With Seeing Beautiful Again, Lysa TerKeurst invites you to hope again.
Awaken: 90 Days with the God who Speaks
There are times in our life where we want to hear from God and need his help to lead us to the right path. Often, our confusions lead us to the direction that makes our lives difficult. If you want to hear loud and clear from God as to where to go and what to do, then 'Awaken' is for you.
The list of women's devotionals is huge, but this contains all the elements females look for. Priscilla Shirer has shared some great insights that clarify matters that kept you confused and discouraged. Each day, you get to read a passage that allows you to rethink the situation and apply it to your life. Women advocate it as the best among all, as many changed their lives in just 90 days.
Our Final Thoughts
With a variety of amazing devotional books available on the market for Christian women, it is nearly impossible to pick the one that fits in the category of being the best women's devotional books. Still, the list given above comprises some great options to refresh your soul and spend a little time with God, rather than spending no time at all.
In our daily lives, we get so caught up in the day's activities that finding a quiet time with God becomes nearly impossible. You get to read some nuggets of God's word and learn about his instructions for life with devotionals. Until you get back to the Bible, these books are great at giving you a head start. They are equally effective for women having younger children when reading the Bible is usually not on your radar.