It's natural to want to meet someone who enjoys doing the same stuff you do in their free time, especially when it comes to religion, faith, and belief. People frequently express a desire to meet someone who matches their musical tastes, traveling interests, or a passion for sporting activities. While common hobbies might be a wonderful beginning point for a meaningful relationship, when looking for a serious& long-term companion, it's also essential that your principles, faith, and belief are in sync.
If you're looking for a place to meet one with actual dating guidance, the Bible might be an unexpected source of inspiration. Because it has evident relevance to practical religious life. According to the Bible verse, "Flee the evil desires of youth and pursue righteousness, faith, love, and peace, along with those who call on the Lord out of a pure heart." (2 Timothy 2:22)For three reasons, this is an excellent Christian dating guide.
To begin with, it advises all Christians to put their immature, sinful inclinations behind them. As a result, Christian dating should be carried out in a mature and unadulterated manner.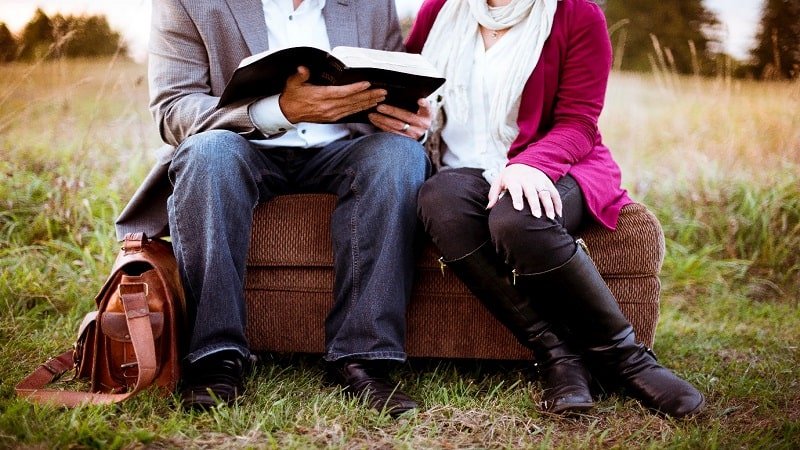 Second, this verse advises us to join hands with other Christians who pray to God with sincerity. You will create the sort of atmosphere that will most likely lead to finding someone if you follow this Bible verse while being single.
The Best Tips to Meet Christian Singles
Finally, this verse identifies some characteristics that a true Christian should possess: purity, love, compassion, and serenity. When you notice these characteristics in a person, it means they are in a stage of life where they are ready to commit.
1. Social Circle
Mutual peer groups are the most common way for individuals to meet and start dating. Christian men and women find the time to get to know one another from being in the same peer group.
Many Christian singles are hesitant about dating, but seeing one another in the same circle of friends might assure that a man and woman can move forward to a new step.
The majority of Christians find their partner through common acquaintances and shared Christian hobbies and interests. Church Activities
Christians gather regularly to pray and strengthen their faith. The objective of the meeting is to motivate one another and learn about the teachings of God. It's not enough to just make an appearance at church and expect to encounter other Christians.
Encouragement occurs when individuals actively and purposefully follow their beliefs and attempt to strengthen each other's beliefs. When you're actively involved in church activities, it's more likely that you'll meet someone who shares your passion for Jesus.
Meeting Christian singles is much simpler when you follow the correct path and look at the right place.
2. Volunteering for Christian Organizations
Volunteering some of your time to church-related causes is a terrific method to meet individuals who share your beliefs outside of your typical network. With charity events held by the church and other church-related projects, it allows you to meet new people and introduce yourself to take a step further towards the start of a relationship.
3. Dating Site or App
If you're searching for a long-term relationship instead of a casual hookup, finding the correct site or app is important to increase your chances of meeting someone compatible.
But not every dating site or app is the same. There are different sites like Christian Mingle and Christian Connection that allow Christian singles to find their true love.
Christian Connection focuses on bringing individuals together who have the same religious beliefs and desire to form a meaningful relationship. This is an excellent place to begin if your faith is important to you.
While Christian Mingle is the ideal dating site for Christian singles. Many people have used the site to locate the ideal companion for them. It's simple to get to. To join the Christian singles community, all you have to do is complete a simple 'sign-up' form.
So, choose a dating app that is in line with your religious goals.
4. Social Group Events or Conferences
There is a wide community of organized and well-run social conferences and events around the country for a meet-up with Christians. When you participate in learning that is centered on this hope, your heart is moved, your intellect is challenged, and your decisions become more important.
It is simpler to notice people who hold the same views in this sort of environment. We should look for finding true love at activities where the goal is to learn.
Service initiatives, lively worship, and concentrated conferences are significantly more likely to reveal the character traits that lead to long-term connections.
5. Weddings
Weddings are feared by singles because they serve as a painful reminder that everyone else is changing their relationship status except you.
Weddings, on the other hand, are not only a required celebration but also an excellent chance to meet new people.
So go ahead and RSVP for one, and see if it is an opportunity to meet new people.
Our Final Thoughts
God created men and women to be in a relationship with one another. Of course, not everyone will establish a love connection. For it to happen, God's plan of bringing men and women together is just too powerful.
If you're a Christian single who wishes to marry someday, the greatest advice is to be with other Christian singles. Whether you meet someone in a church, within a friend circle, while volunteering, or some other means, the pattern that runs through many marriage stories is that a man and woman meet.
Just at end of the day, your top focus should be discovering your passion and purpose rather than searching for the love of your life.
You'll be progressing toward God's larger plan for your existence as you live out your desire and the destiny He has put on your life. That's when you're on a mission to find God, you'll always be on the correct track. Relationships are among them. If you take one step towards finding the right path that leads to God, He will reward you with the thing you have been looking for your entire life.