There are so many Bible verses about humility, and they all teach us something different. But at their core, they all remind us that humility is one of the most important virtues we can possess. When we're humble, we're willing to put others before ourselves and recognize our weaknesses. We can learn a lot from Bible verses about humility, and they can help us become better people.
The Bible is filled with verses about humility, which is a critical aspect of the Christian life. Here are 25 scriptures that focus on the importance of humility. Please give them a read!
25 Bible Verses About Humility
Your beauty should not come from outward adornment, such as elaborate hairstyles and the wearing of gold jewelry or fine clothes. Rather, it should be that of your inner self, the unfading beauty of a gentle and quiet spirit, which is of great worth in God's sight.
1 Peter 3:3-4
In the same way, you who are younger, submit yourselves to your elders. All of you clothe yourselves with humility toward one another because "God opposes the proud but shows favor to the humble."
1 Peter 5:5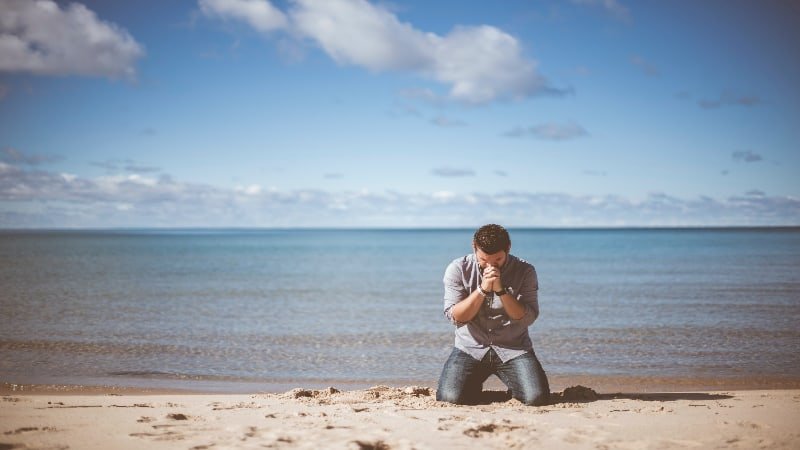 … whoever desires to become great among you shall be your servant. And whoever of you desires to be first shall be slave of all. For even the Son of Man did not come to be served, but to serve, and to give His life a ransom for many.
Mark 10:43-45
Humility is a character quality that is of supreme value in the eyes of God. The Bible tells us that the Lord blesses, honors, and favors those who are genuinely humble.
James 4:6-7
If my people, who are called by my name, will humble themselves and pray and seek my face and turn from their wicked ways, then I will hear from heaven, and I will forgive their sin and will heal their land.
2 Chronicles 7:14
For by the grace given me, I say to every one of you: Do not think of yourself more highly than you ought, but rather think of yourself with sober judgment, in accordance with the faith God has distributed to each of you.
Romans 12:3
God chose the lowly things of this world and the despised things—and the things that are not—to nullify the things that are so that no one may boast before him.
1 Corinthians 1:28-29
But he said to me, "My grace is sufficient for you, for my power is made perfect in weakness." Therefore, I will boast all the more gladly about my weaknesses so that Christ's power may rest on me. That is why, for Christ's sake, I delight in weaknesses, in insults, in hardships, in persecutions, in difficulties. For when I am weak, then I am strong.
2 Corinthians 12:9-10
So when you give to the needy, do not announce it with trumpets, as the hypocrites do in the synagogues and on the streets, to be honored by others. Truly I tell you, they have received their reward in full.
Matthew 6:2
Come to Me, all you who labor and are heavy laden, and I will give you rest. Take My yoke upon you and learn from Me, for I am gentle and lowly in heart, and you will find rest for your souls. For My yoke is easy, and My burden is light.
Matthew 11:28-30
Nor are you to be called instructors, for you have one Instructor, the Messiah. 11 The greatest among you will be your servant. 12 For those who exalt themselves will be humbled, and those who humble themselves will be exalted.
Matthew 23:10-12
Let all bitterness and wrath and anger and clamor and slander be put away from you, along with all malice. Be kind to one another, tenderhearted, forgiving one another, as God in Christ forgave you.
Ephesians 4:31-32
Talk no more so very proudly; let no arrogance come from your mouth, for the Lord is the God of knowledge; and by Him, actions are weighed.
1 Samuel 2:3
For all that is in the world—the lust of the flesh, the lust of the eyes, and the pride of life—is not of the Father but is of the world. And the world is passing away, and the lust of it; but he who does the will of God abides forever.
1 John 2:16-17
Now I, Nebuchadnezzar, praise and exalt and glorify the King of heaven because everything he does is right, and all his ways are just. And those who walk in pride he is able to humble.
Daniel 4:37
You, my brothers and sisters, were called to be free. But do not use your freedom to indulge the flesh; rather, serve one another humbly in love.
Galatians 5:13
He has shown you, O mortal, what is good. And what does the Lord require of you? To act justly and to love mercy, and to walk humbly with your God.
Micah 6:8
Before a downfall, the heart is haughty, but humility comes before honor.
Proverbs 18:12
The reward for humility and fear of the Lord is riches and honor, and life.
Proverbs 22:4
These have indeed an appearance of wisdom in promoting self-made religion and asceticism and severity to the body, but they are of no value in stopping the indulgence of the flesh.
Colossians 2:33
He guides the humble in what is right and teaches them his way.
Psalm 25:9
Then he said to them, "Whoever welcomes this little child in my name welcomes me, and whoever welcomes me welcomes the one who sent me. For it is the one who is least among you all who is the greatest."
Luke 9:48
For all those who exalt themselves will be humbled, and those who humble themselves will be exalted.
Luke 14:11
Do nothing from rivalry or conceit but in humility count others more significant than yourselves.
Philippians 2:3
Seek the Lord, all you humble of the land, who do his just commands; seek righteousness; seek humility; perhaps you may be hidden on the day of the anger of the Lord.
Zephaniah 2:3
Our Final Thoughts
Humility is a quality that is often talked about but not always understood. Bible verses about humility described it as a key virtue that we should all strive for. But what does humble mean? The definition of humble can be summed up as the low opinion of self.
When you have a low opinion of yourself, you are less likely to become arrogant or prideful. And when you are humble, you open yourself up to receive God's blessings.