Kanye West, the rapper, is one of the most well-known pop culture figures. His highly regarded and well-loved music, high-end fashion brand, divisive public presence, outspoken political views, and his six-year marriage to popular American reality television star Kim Kardashian have kept the Chicago hip-hop musician in the spotlight.
A few years ago, Kanye West released his long-awaited album Jesus Is King, which had been hyped for months. The response to an album consisting of church music and religious lyrics was widespread and controversial, much like the response to nearly anything that Kanye West does.
Many Christians consider Kanye's life as nothing more than the ups and downs of an exaggerated and public representation of what it means to engage with God throughout one's life.
The world has seen different versions of Kanye West. Kanye West has transformed his life from the man who stood up for black people during Hurricane Katrina to his presidential run and the recent dissolution of his marriage with Kim Kardashian. Many people still want to know when did Kanye West become a Christian. Let's find out from his interviews.
Kanye West's History With Christianity
Kanye West's relationship with Christianity was always in the news. While speaking to a channel, Kanye West said, "They say you can rap about anything except for Jesus, that means guns, sex, lies, videotapes, but if I talk about God my record won't get played huh?"
Kanye West's third Top 20 hit in a row, 'Jesus Walks', won the Grammy for Best Rap Song in 2004 and was eventually certified double platinum by the Recording Industry Association of America (RIAA). Kanye West had a line in his song regarding Christianity and Jesus saying, "My mom used to say only Jesus can rescue us," revealing the star's devout background and hinting at his obsession with sin and forgiveness.
But even before returning to Christ, Kanye West had a detour. Records such as 'Diamonds from Sierra Leone' and 'Heard 'Em Say' on his album Late Registration in the year 2005 discussed wider societal problems provided the labels of the songs. Other songs like 'Power', 'Stronger', 'Champion', 'Can't Tell Me Nothing' etc.,  would make you believe Kanye West was concentrated on anything beyond being Kanye West.
However, Kanye West became more nuanced in how he spoke about his changing connection with God as his career progressed.
Kanye West's Relation With God Before Accepting Christianity
In 2008, Kanye West said in an interview, "I'm like a vessel, and God has chosen me to be the voice and the connector." He further said, "I can't be responsible.  I'm good, but I'm not that good. So, my job is just to be in the studio and do videos, and like, I just stand here and let God do the rest." While talking in another interview, he declared, "I would never go into a religion. I believe in Jesus as an icon, but I don't feel the responsibility to put my life on Jesus."
He told Vibe a year later, "I don't believe in religion and giving it all up to Jesus. I believe in God. But I don't buy into any particular, specific religion. I just believe in God. I would never say, 'Leave it up to Jesus.'"
Kanye West On Embracing Christianity
Kanye West has lately repositioned himself as a firm Christian believer, and his views and spiritual performances have thrust him back into the rap debate. The rapper gave a glimpse into his exploratory process as a Christian believer in an interview with Vogue. He also discussed his ego, feelings about being judged, and other topics. He also mentioned his desire to utilize his new opera to create a beacon of brightness.
In another interview, he told Vogue, "A lot of times, people try to point out the flaws of people who are Christian. But always remember, Christians are not Christ. We fall short. We all fall short of the glory."
In the same interview, Kanye West discussed his planned opera, Mary, and revealed that the original title was Birth of Jesus. He explained that he believed it'd be more intriguing to convey the theme from Mary's viewpoint than Jesus'. The artist also mentioned that Mary's narrative took over his mind for a while.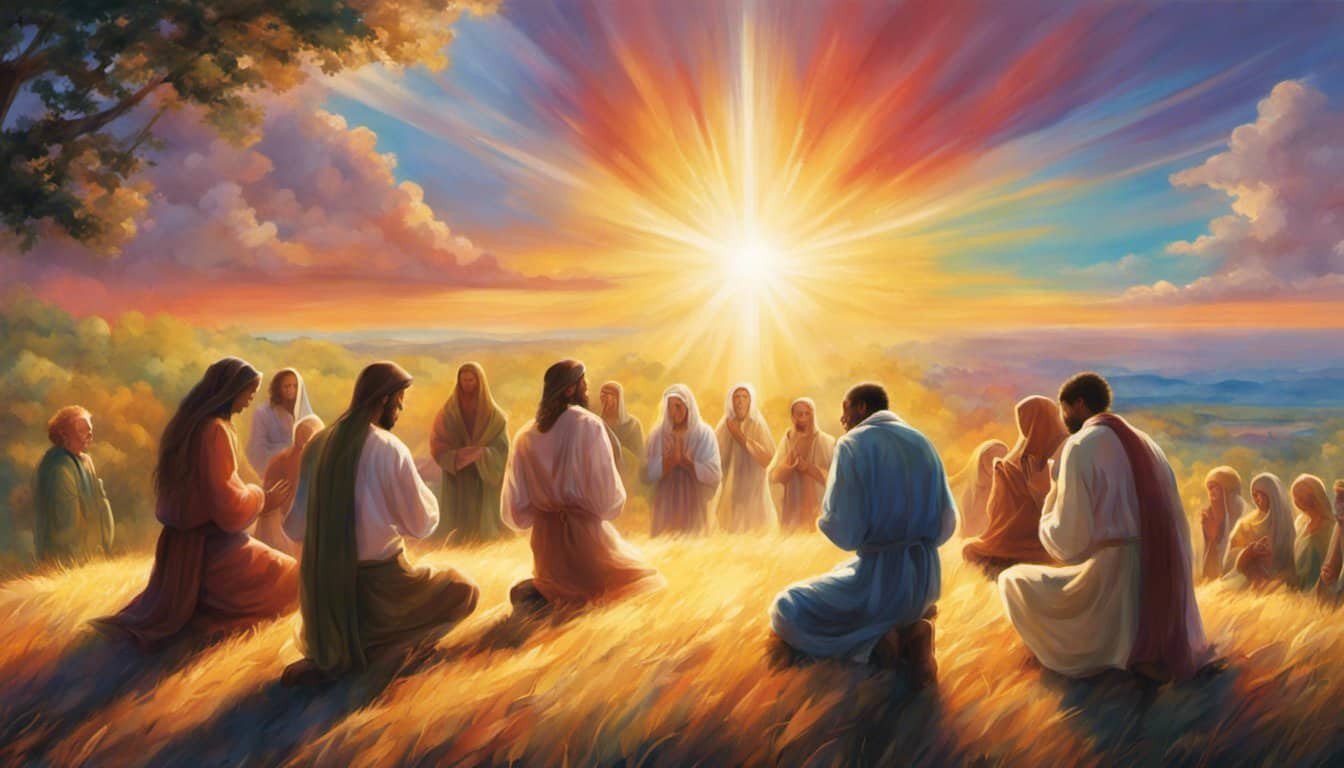 He declared that he now surrounds himself with people who will drive him on the correct path. "You can pick your influences. I sought out to have Bible study, and to be around other Christians who could keep me accountable.
However, the circumstances of West's current reconciliation with God are exceptionally fortunate: West faced backlash from the hip-hop scene in 2018 after donning a red hat with the slogan 'Make America Great Again' to show his appreciation for Donald Trump. Afterward, West stated that slavery was a choice, sparked even more debate, and started a new controversy. West's words were quickly condemned by peers, including Meek Mill and John Legend, but after being canceled for a while, West resurfaced in 2019 as he described himself back then, a newborn Christian, and rebounded.
Our Final Thoughts
Kanye West's decision to turn to God and Christ came at the right time when his career was going downhill due to many controversies. Many critics argue that this conversion was more about his career revival than religion itself. People argue whether this was another attempt to revive his career that was falling apart for different reasons. Whatever the truth might be, it's safe to say that Kanye West's services to Christianity provide more benefits to Christians than harm. It is safe to say that when Kanye West became Christian for the right reasons, God directed him towards the right path.