YouTube is the second most popular social media platform with more than 2 billion active users. People usually use this application for entertainment or learning new stuff like stitching, cooking, watching product reviews, etc. However, not many know that YouTube can also be used to gain spiritual insight into Christianity. Yes! Several YouTubers are Christians, spreading hope, faith, and love for God among people.
9 Inspiring Youtubers who are Christians
It's hard to choose between the diverse Christian YouTubers, but we've managed to pick out a few based on their following.
1. Ashley & Taylor
Ashley and Taylor are sisters who're passionate about sharing the gospel message and the truth about Jesus Christ. They make Christian videos with their mother and post them weekly, encouraging and equipping women to fight in the way of God. Their channel is called "Coffee and Bible Time," where women of all ages come to flourish, grow, and learn about Christ.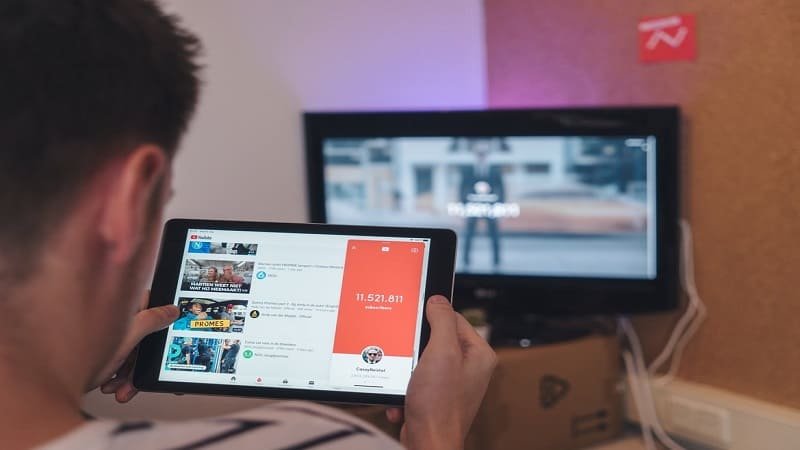 Ashley and Taylor cover topics like praying for a potential husband, studying the Bible methodology, setting spiritual goals, making time from your busy routine to work for God, etc. Therefore, grab a cup of coffee, a Bible, and wrap yourself in a cozy blanket before watching their motivational videos.
2. The Michael Jr. Show
Michael, the star of the film "Selfie Dad," walks by faith courageously and amusingly. If you're a fan of faith-based films, you might remember Michael's secondary role in "War Room" in 2015. The movie made it to #1 at the box office. Nevertheless, Michael's first feature film was "Selfie Dad," where he's not only facing a midlife crisis but also a crisis of faith.
Michael's comedy inspires us through his show "Funny How Life Works" on his YouTube channel. His standup outreach engages the audience and helps them learn about Christianity, faith, and God in a humorous way. Watch "Funny How Life Works" on YouTube, or listen to his podcasts for free!
3. Pastor Mike Winger
Mike Winger is another popular Christian Youtuber who created his channel to help Christians discern the word of God. He answers skeptical questions regarding the Christian lifestyle and theology and tackles them without skirting tough issues. He wants believers to understand their faith and trust the Lord.
Watching his videos will help you think biblically about everything. You'll understand what the Bible says about specific issues and how to help others using biblical knowledge. Mike Winger ensures to create well-researched biblical content that Christians had been starving for since they first believed!
4. Morgan Tracy
Morgan Tracy started her YouTube channel in 2015 and has been sharing pieces of advice on fearlessness, faith, and fashion since then. Her channel is meant for women, inspiring them everywhere with the love of God. She uses Bible studies and devotionals to guide girls on relationships and prayers, encouraging them to heal in all areas of life.
5. Jonathan Dirmann
Dirmann is a church pastor in Lake Elsinore. He recently launched his YouTube channel, The Jonathan Dirmann Show, where he talks about current events and controversial topics. People find his channel intriguing because he gives fresh insight on previously argued topics and helps them positively reconsider issues. You can learn a lot about faith, hope, and wisdom through his channel and find yourself supporting his side of the spectrum like us!
6. Kacie Nicole
The moment you visit Kacie Nicole's YouTube channel, you'll feel at peace! She aims to know Jesus and make Him known among believers. She is currently working remotely, using fresh and uplifting playlists including "Building Your Relationship with God," "Christian Singleness," "Lifestyle," and several Bible studies to transform your lives through Christ. She wishes to help people live a life by submitting to the authority of the scripture.
"My prayer for this space is that you would walk away encouraged in your faith journey, equipped to study God's Word, and inspired to live a life that is glorifying to Him," says Kacie. She claims that loving and knowing God is the best pursuit. Therefore, she plans to inspire people to seek Him in their faith journey!
7. Pastor Greg Laurie
Greg Laurie is a pastor of Harvest Church in Los Angeles. He provides his audience with a tangible sense of culture and how it applies to honesty, humor, and love. He shares raw testimonies and discusses redemption of all kinds through his interviews with celebrities.
Laurie presents his followers with biblical encouragement, hope, truth, and spiritual answers to everyday questions. He uses engaging videos and live coverage to reach his audience. Laurie's playlists include "Hope for Hurting," "World Changers," "End Times," and "Hot Button Issues."
8. Jennifer Allwood
Yet another inspiring and motivational Christian Youtuber who aims to instill the love for Jesus into people's hearts! Jennifer Allwood's testimony of God helps people follow Him in their lives. As a Christian business coach, entrepreneur, speaker, and author of the bestseller Fear Is Not the Boss of You, she is a boost for your soul! To anyone with a dream, Jennifer is your go-to person as she'll enable you to step into your calling!
"I teach creative entrepreneurs how strategy, mindset, and faith are a key to making six figures online," she says.
9.  Allen Parr
Allen Parr promises and delivers videos and courses that'll help you understand the mystery behind the Bible. His channel, THE BEAT (Biblical Encouragement and Truth), makes the word of God come alive for those who think scriptures are just words on a page! His message is powerful, clear, and energizing! Therefore, watch his short videos and get a chance to live as a true believer!
Our Final Thoughts
YouTubers who are Christians focus on creating videos that help people acknowledge the various theological concepts and ideas about Christianity! We hope you these channels, their videos and share them with your friends and families to spread the word of God!