As a professional player or coach, wearing your religion on your sleeve with your squad number can surprise sports fans. When sports players' personal lives and shenanigans are plastered all over the world's front pages, this is especially true. The public has access to every aspect of their lives, from legal and professional difficulties to their domestic lifestyles. As a result, we don't typically hear about the athletes who devote their time and effort to religious causes.
However, many Christian athletes who play sports are not shy about expressing their faith. They often express their faith during their games through expressions of prayer before or after a game or point to the sky after hitting a home run. Several of America's most prominent professional athletes place God at the top of their priorities, and they're not hesitant to express their devotion and religious views both on and off the field.
7 Pro Athletes Who are Christians
Here we have our top picks for athletes who are Christians and are not shy about expressing their faith publicly.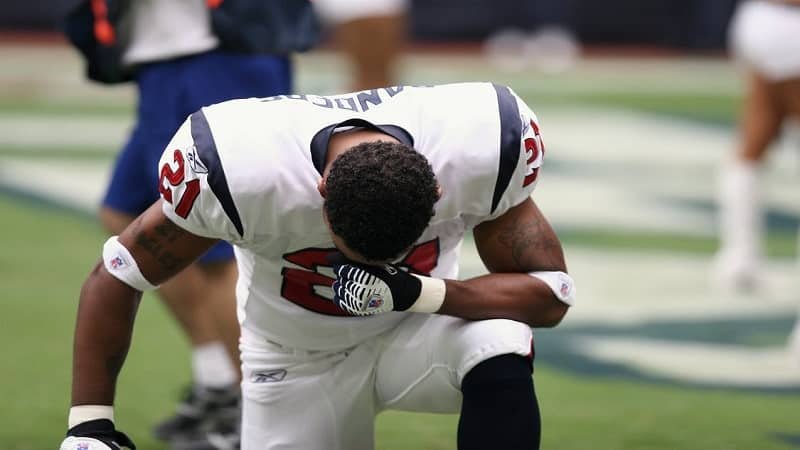 1. Tim Tebow
As soon as he began playing football, Philadelphia Eagles quarterback Tim Tebow became one of the most well-known Christian athletes in the world, not hiding his faith in Jesus Christ either verbally or physically (remember Tebowing?). At gatherings, he urges people to rise and act for God in their life. He recently urged other athletes to allow Christ to guide them, thinking that their lives would become better if they followed Christ's teachings.
2. Allyson Felix
Allyson Felix, a gold medal-winning Olympic runner, does not take credit for her achievement, but instead gives it all to God and relies on her faith in all she does. As a young lady, she embraced Christ into her life, and since then, she has never lost sight of Him. As a well-known athlete, she utilizes her platform to spread the Gospel. When asked about her running prowess, she claimed it was a gift from God, and she intends to make the most of it.
3. Gabby Douglas
Olympic gold champion Gabby Douglas was brought up in a Christian home where her mother instilled a strong faith in her and her brothers. Throughout her Olympic career and afterward, she has maintained that faith. "I don't know where I would be now if I hadn't had a strong belief in God," the gold medalist said in a recent interview with the Huffington Post. Scripture serves as a source of inspiration and strength for her as she trains, competes, and goes about her everyday life.
4. Stephen Curry
The Basketball star and reigning NBA MVP Stephen Curry is a devout follower of Jesus Christ who is dedicated to encouraging others to do the same. God has prepared the Golden State Warrior for a larger role in the world, and the basketball star feels that his role is only the beginning. Christian Athletes magazine interviewed Curry, and he remarked that his religion is more important to him than his jersey. "My faith gives me purpose in life," Curry said. "It gives me purpose in playing basketball. I know not to get too high off of wins and not too low off of losses because there are much bigger things going on than winning and losing."
5. Manny Pacquiao
Manny Pacquiao, the current world boxing champion, is well-known for his strong Christian faith and frequent references to God in the media, but it wasn't always this way. He was a devout atheist for many years before accepting Christ as his personal Savior. From that moment on, Pacquiao's life began to change for the better when he heard God's voice in his dreams. As a result of his unwavering commitment to giving back to his community and helping those in need, he has become a global role model.
6. Clayton Kershaw
Between 2011 and 2013, this Christian athlete won the Cy Young Award as a starting pitcher three times. For the first time since winning the award, he didn't get it in 2012. Through his charitable organisation, The Kershaw Challenge, Kershaw gives back to the community by sponsoring a variety of deserving causes. Funds are raised for charitable purposes by enticing donors to "use their God-given abilities to give back to those in need.". He has assisted a number of organisations, including an orphanage in Zambia, via the foundation.
7. Kurt Warner
Fans of sports and evangelical Christians alike recognise the name. Warner was a member of the St. Louis Rams, the New York Giants, and the Arizona Cardinals football teams. He has guided two underdog teams to the Super Bowl twice. He claims that religion and family are the keys to his success. Both are represented by Warner, who has a powerful voice. A hospice in Ethiopia and a school in Sierra Leone are two of the many causes supported by his charity, First Things First.
Our Final Thoughts
In a world filled with scandals, it's becoming more difficult to tell who is a good person and who is not. This has been especially true in the sports world. In recent years, it seems like every time you turn on the TV, there is another story about an athlete being involved in some kind of scandal or crime. For this reason, people have lost faith in athletes.
However, one of the only things that they can believe in unconditionally nowadays is their faith in God. Athletes who are Christians know that God will always be there for them when everything else around them falls apart. The struggle is real for these athletes who believe that God has a plan for them and want to share this with the world. They feel that they have a responsibility to be an example of Christ-likeness and show others what it means to live life faithfully even in the face of adversity.